If you have a question or a comment about this photograph you may write to me at: tas4@schweich.com I sometimes post interesting questions in my FAQ, but I never disclose your full name or address.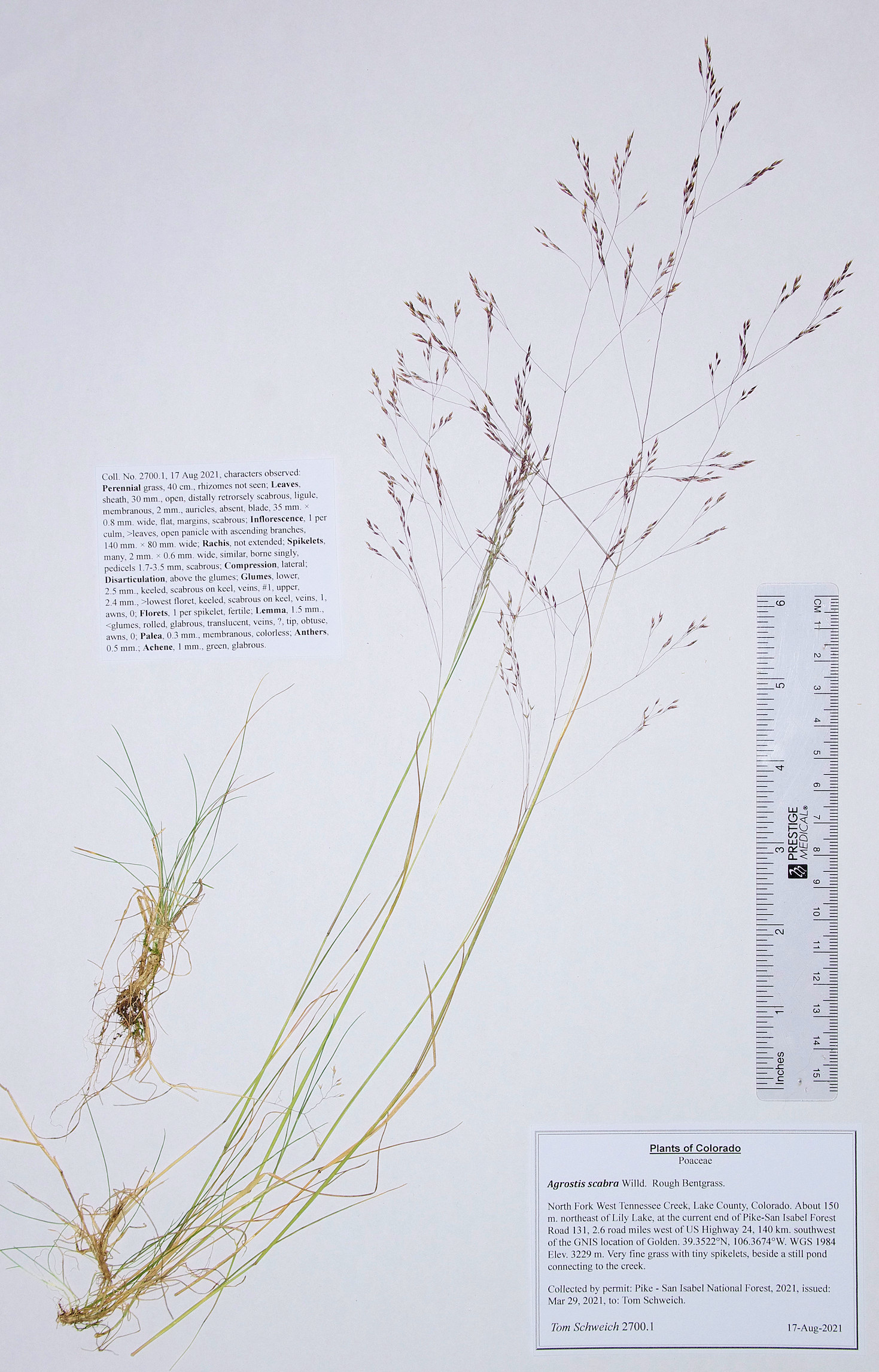 Photographed 10 February 2022.

Plants of Colorado

Poaceae

Agrostis scabra Willd. Rough Bentgrass.

North Fork West Tennessee Creek, Lake County, Colorado. About 150 m. northeast of Lily Lake, at the current end of Pike-San Isabel Forest Road 131, 2.6 road miles west of US Highway 24, 140 km. southwest of the GNIS location of Golden. 39.3522°N, 106.3674°W. WGS 1984 Elev. 3229 m. Very fine grass with tiny spikelets, beside a still pond connecting to the creek.

Collected by permit: Pike - San Isabel National Forest, 2021, issued: Mar 29, 2021, to: Tom Schweich.
| | |
| --- | --- |
| Tom Schweich 2700.1 | 17-Aug-2021 |
Coll. No. 2700.1, 17 Aug 2021, characters observed: Perennial grass, 40 cm., rhizomes not seen; Leaves, sheath, 30 mm., open, distally retrorsely scabrous, ligule, membranous, 2 mm., auricles, absent, blade, 35 mm. × 0.8 mm. wide, flat, margins, scabrous; Inflorescence, 1 per culm, >leaves, open panicle with ascending branches, 140 mm. × 80 mm. wide; Rachis, not extended; Spikelets, many, 2 mm. × 0.6 mm. wide, similar, borne singly, pedicels 1.7-3.5 mm, scabrous; Compression, lateral; Disarticulation, above the glumes; Glumes, lower, 2.5 mm., keeled, scabrous on keel, veins, #1, upper, 2.4 mm., >lowest floret, keeled, scabrous on keel, veins, 1, awns, 0; Florets, 1 per spikelet, fertile; Lemma, 1.5 mm., <glumes, rolled, glabrous, translucent, veins, ?, tip, obtuse, awns, 0; Palea, 0.3 mm., membranous, colorless; Anthers, 0.5 mm.; Achene, 1 mm., green, glabrous.
Article records that use this photograph:
Other photos about Species - Poaceae or Agrostis scabra.
---
Date and time this page was prepared: 9/21/2022 1:02:47 PM