If you have a question or a comment about this photograph you may write to me at: tas4@schweich.com I sometimes post interesting questions in my FAQ, but I never disclose your full name or address.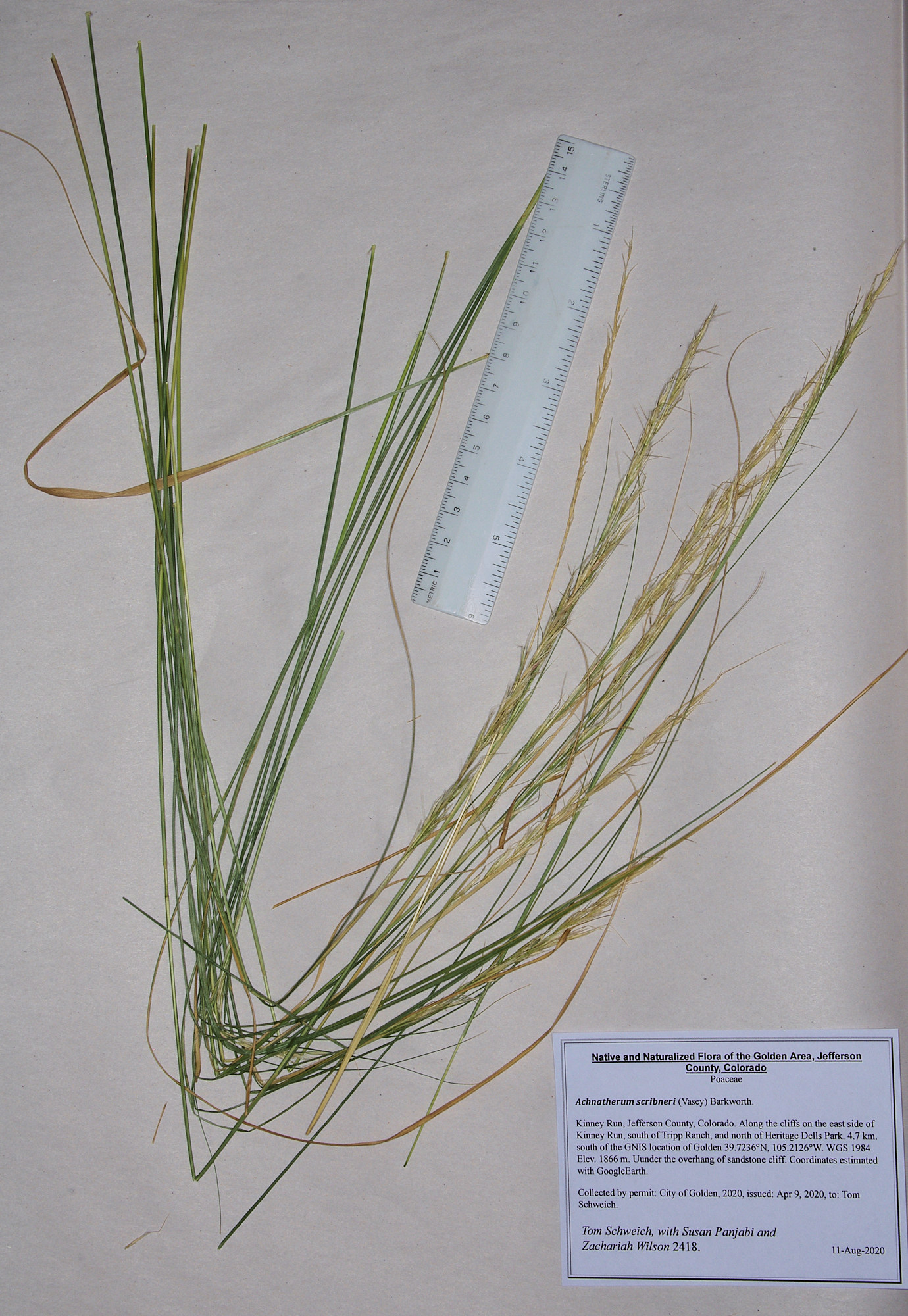 Photographed 11 August 2020.

Native and Naturalized Flora of the Golden Area, Jefferson County, Colorado

Poaceae

Achnatherum scribneri (Vasey) Barkworth.

Kinney Run, Jefferson County, Colorado. Along the cliffs on the east side of Kinney Run, south of Tripp Ranch, and north of Heritage Dells Park. 4.7 km. south of the GNIS location of Golden 39.7236°N, 105.2126°W. WGS 1984 Elev. 1866 m. Under the overhang of sandstone cliff. Coordinates estimated with GoogleEarth.

Collected by permit: City of Golden, 2020, issued: Apr 9, 2020, to: Tom Schweich.

Tom Schweich, with Susan Panjabi and Zachariah Wilson 2418.
11-Aug-2020

Coll. No. 2418, 11 August 2020, characters observed: Perennial grass, to 47 cm., clumped; Stem, herbaceous; Leaves, blade and sheath differentiated, soft; Sheath, 96 mm., open, margin villous, villous at throat; Ligule, 0.8 mm., membraneous, lacerate or ciliate; Auricles, absent; Blade, 380 mm. × 2.4 mm. wide, revolute; Inflorescence, 1 per culm, ≤leaves, panicle, 120 mm. &times 8 mm. wide, 2+ branches; Rachis, not extended, scabrous; Spikelets, many, 11 mm., similar, borne singly, stalked, pedicels 2-6.5 mm.; Compression, unremarkable; Disarticulation, above the glumes; Glumes, lower, 12.5 mm., veins, #3, upper, 9 mm., veins, #3, ±parallel, rounded, membranous, awns, absent; Florets, 1 per spikelet, bisexual; Callus, sharp; Lemma, 6.5 mm., <glumes, rolled, hairy throughout, longest hairs at apex, 2.7 mm., veins, #≥5, awns, #1, 15-16 mm., bent twice, twisted, attached, end; Palea, 2.5 mm., <lemma, membranous, keel or mid-vein, hairy, colorless, entire.

Article records that use this photograph:

Other photos about Species - Poaceae or Achnatherum scribneri.
---
Date and time this page was prepared: 9/21/2022 1:02:47 PM