If you have a question or a comment about this photograph you may write to me at: tas4@schweich.com I sometimes post interesting questions in my FAQ, but I never disclose your full name or address.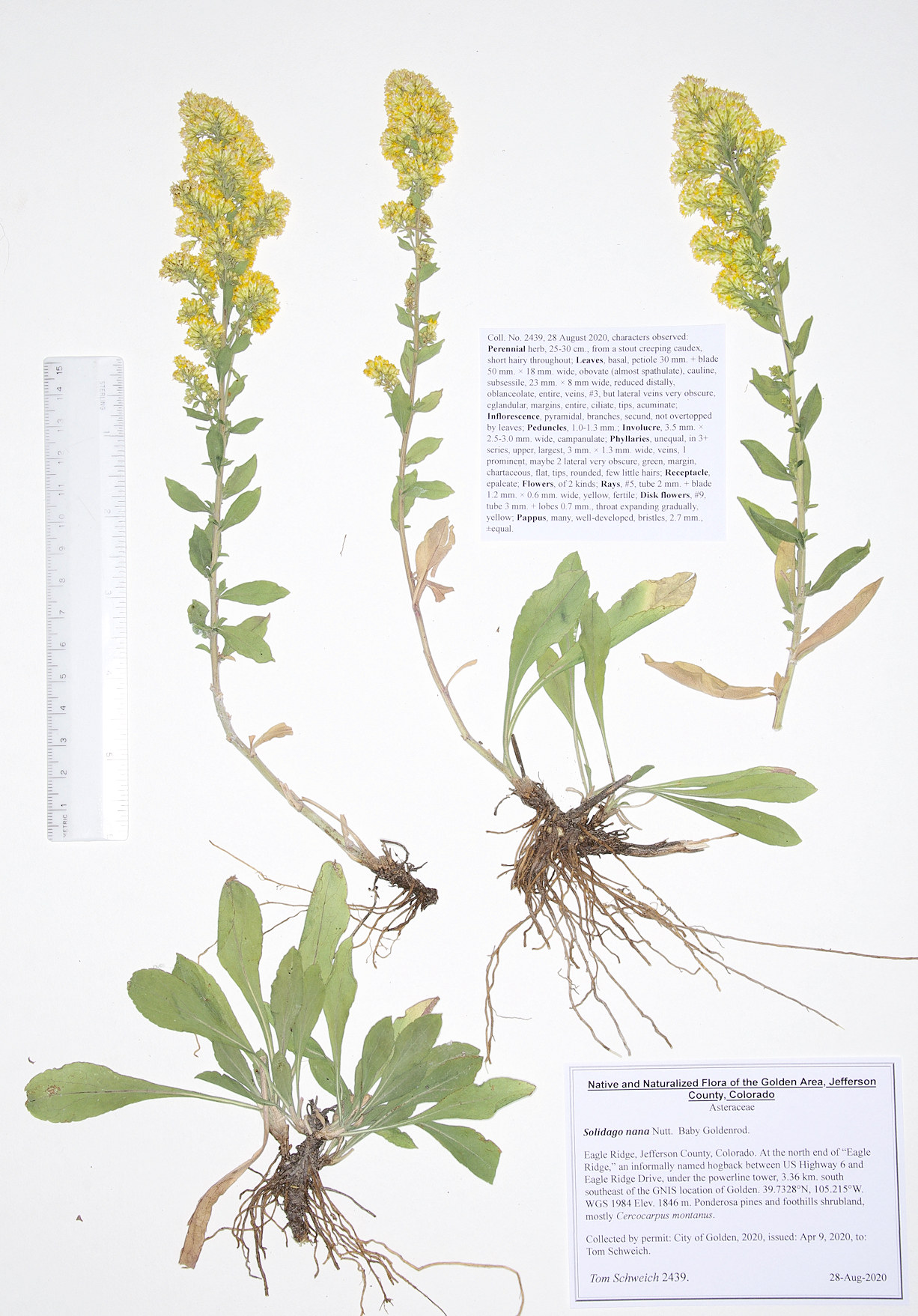 Photographed 31 December 2020.

Native and Naturalized Flora of the Golden Area, Jefferson County, Colorado

Asteraceae

Solidago nana Nutt. Baby Goldenrod.

Eagle Ridge, Jefferson County, Colorado. At the north end of "Eagle Ridge," an informally named hogback between US Highway 6 and Eagle Ridge Drive, under the powerline tower, 3.36 km. south southeast of the GNIS location of Golden. 39.7328°N, 105.215°W. WGS 1984 Elev. 1846 m. Ponderosa pines and foothills shrubland, mostly Cercocarpus montanus.

Collected by permit: City of Golden, 2020, issued: Apr 9, 2020, to: Tom Schweich.
| | |
| --- | --- |
| Tom Schweich 2439. | 28-Aug-2020 |
Coll. No. 2439, 28 August 2020, characters observed: Perennial herb, 25-30 cm., from a stout creeping caudex, short hairy throughout; Leaves, basal, petiole 30 mm. + blade 50 mm. × 18 mm. wide, obovate (almost spathulate), cauline, subsessile, 23 mm. × 8 mm wide, reduced distally, oblanceolate, entire, veins, #3, but lateral veins very obscure, eglandular, margins, entire, ciliate, tips, acuminate; Inflorescence, pyramidal, branches, secund, not overtopped by leaves; Peduncles, 1.0-1.3 mm.; Involucre, 3.5 mm. &times 2.5-3.0 mm. wide, campanulate; Phyllaries, unequal, in 3+ series, upper, largest, 3 mm. × 1.3 mm. wide, veins, 1 prominent, maybe 2 lateral very obscure, green, margin, chartaceous, flat, tips, rounded, few little hairs; Receptacle, epaleate; Flowers, of 2 kinds; Rays, #5, tube 2 mm. + blade 1.2 mm. × 0.6 mm. wide, yellow, fertile; Disk flowers, #9, tube 3 mm. + lobes 0.7 mm., throat expanding gradually, yellow; Pappus, many, well-developed, bristles, 2.7 mm., ±equal.
Article records that use this photograph:
Other photos about Species - Asteraceae or Solidago nana.
---
Date and time this page was prepared: 9/18/2023 5:25:19 PM